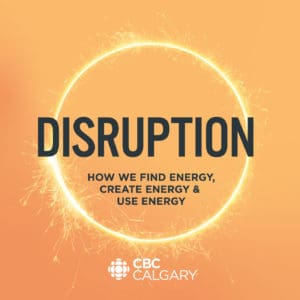 We're excited to announce the launch of a new CBC Calgary podcast series, hosted by Peter Tertzakian and CBC business journalist Tony Seskus.
Disruption: How We Find Energy, Create Energy and Use Energy explores the profound challenges of sudden energy transition, the effects it has on people's lives and the difficult decisions to be made. Together, Peter and Tony talk to people with skin in the game — workers in the field, cleantech innovators, boardroom decision makers, community leaders — about what energy disruptions can teach us and how to tackle our challenges today.
Every episode will start with an object from the Energyphile collection, its significance as a moment marking drastic economic and social upheaval and how it parallels to today.
In this first episode, the springboard is the story "Stairway to Hell," a ghost town that was once a bustling coal town. Peter and Tony talk to Chris Warwick, mayor of the town of Hanna; Wanda Diakow, economic development officer on the Special Areas Board; and Jason Schneider, reeve of Vulcan county. Hear what these small-town leaders have to say about what their communities are going through … and what they could look like in the future.
Listen to Disruption: How We Find Energy, Create Energy and Use Energy on CBC now or wherever you get your podcasts. There will be a new episode every two weeks!
Find out more about the other episodes:
ep. 2 — Lost Jobs, Retooled Lives and a Greener Future
ep. 3 — Big Bucks and Business in the Energy Transition
ep. 4 — Selling Dreams
ep. 5 — The Next Generation